A delicious selection of wines and botanicals such as holy grass, gentian, gypsy herb or blessed thistle and spices such as nutmeg, saffron or orange peel, make up the latest in Castell del Remei, its Vermouth Classic, an aromatized wine that recovers a historical recipe from the winery and recovered by new audiences.
In the 1920s, Castell del Remei was known, in addition to its still wines, for the production of aromatized wines such as Chamomile Liqueur from Castell del Remei and distillates such as Brandy from Castell del Remei; and it is precisely an ancient recipe from this period that is now being rescued to bring to light this aromatized wine. The base of the Castell del Remei Classic Vermouth is made up of white macabeo wines, chosen for their lightness. On the other hand, the aromatic herbs are macerated between one and three months to achieve the desired potential for aromas and a third phase is added to the base wine, achieving a vermouth of approximately 15% vol. of alcohol. Each of the botanists contributes a different nuance in this recipe that the oldest winery in Catalonia recovers within the new vermouth: herbaceous notes of holy grass, the bitterness of gentian or the citrus freshness of the herb gypsy.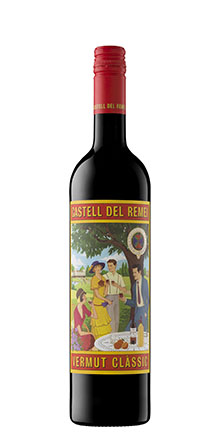 The label on the bottle of this Classic Vermouth is also a tribute to that time of the early twentieth century in which Castell del Remei made not only wines, but also liqueurs and vermouths, a tradition that is now recovered in this bottle. 
"Dark and bright amber brown, the Classic Vermouth of Castell del Remei is very aromatic, with many notes of fruit and spices and a characteristic sweet and bitter taste at the same time, perfect to take it in the classic style, accompanied by an olive, but also with ice, grapefruit or soda. Of course, it's always very cold ", recommend the people in charge of the Lleida winery.